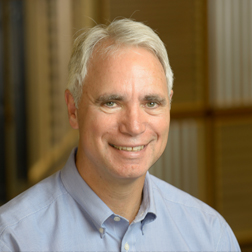 By John Gerzina, AIA, LEED AP
DSGW Principal
Published in the Duluthian
For decades, architects worked to minimize environmental impacts of buildings—seeking to reduce impacts such as carbon footprints and energy consumption. We made our buildings healthier for the environment but ignored the health of people who work inside them.
"Active Design" is an emerging strategy to get people moving and engaged. Its emerging principles reach beyond single buildings to surrounding neighborhoods, and even the city itself.
Inviting Stairways and Destinations
Active Design encourages people to make more active choices. For example, the advent of elevators and escalators gradually demoted stairways from grand public spaces to utilitarian stairwells tucked in a corner. Today, they are often isolated and people are afraid to use them for reasons of safety.
But, stairs don't have to be this way. Think of the St. Louis County Courthouse and Duluth City Hall. They have internal stairwells that are great spaces in themselves—filled with light and detail. Both buildings have long had elevators, yet the grandeur and delight of their public spaces encourage people to use the stairs.
Tony Mancuso, Director of St. Louis County Property Management, first tested Active Design strategies in the renovation of the Government Service Center in Duluth. Since then he says, "we have experienced a huge increase in the use of the stairwells since we installed glass doors, repainted, and increased light levels." He adds that people "used to use the elevators constantly, for even movement of one floor—this is no longer the norm."
We can once again make stairways an alluring option—often at a modest cost. By placing stairways in sunlit atriums and making landings where people can sit and talk, stairs can be both inviting and social.
Connections with Community
The 61,700 square-foot Government Service Center (GSC) in Virginia is a chance to design an even more active government building—and DSGW is working with Mancuso and the County to build it.
We are arranging the offices at the center with a light-filled public hallway around the entire two-story building. Rather than walking through a maze of partitions, employees will walk a slightly longer path for meetings and projects, but will have a far more enjoyable experience in doing so.
Nobody gets a favored window office, but everyone shares pleasant spaces. While moving around the corridor loop, people can pause or find a seat to absorb the sunlight on a January day. The interior workspaces have transparent partitions that draw daylight and outdoor views deep inside.
The GSC's central location will become a walking destination for the Virginia community. DSGW's master plan includes a park that creates a new government "district" of both new and older buildings with a plaza and green space.
The master plan includes welcoming walkways connecting to Virginia's downtown. Rather than being just a new building downtown, the Service Center is an active destination—a new anchor that brings energy to a pedestrian district of 12 blocks.
Active Design also enhances Duluth's growing reputation as destination for outdoor tourism. In designing the new Pier B Resort on the Duluth Harbor, we transformed an old slip into a small lakeside space where people can "touch the water." There is no other place along the harbor where you can do this—and this small feature is now a walking destination. The resort connects to the bike trail system that spreads across the city, to the park system and Skyline Parkway. Duluth has always been a city perched on the edge of nature. What better place to celebrate active living both indoors and out?